Tandem Instructor Course (USPA and UPT Vector2/Sigma)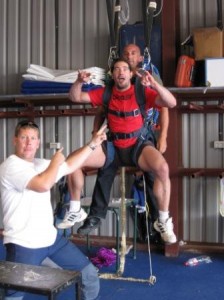 Our Tandem Instructor Course will endorse you for both the USPA Tandem Instructor as well as for the UPT manufacturer rating (VECTOR2/SIGMA systems). The requirements for each system are slightly different however. We will explain here the needed requirements and course outline for the complete package of both ratings. If you are looking at starting your Tandem Training, we recommend meeting requirements for both ratings (USPA+UPT) right away. Since 2009 the USPA requires that all USPA Members who are in the possession of a USPA Tandem Instructor Rating need to hold also a manufacturer rating.
If you are already a Tandem Instructor rated on a different manufacturer system and would like to convert your Rating to a SIGMA endorsement, please have a look at the page CONVERSION.
Requirements for taking the course
current USPA Membership (activate or renew through USPA) > USPA
USPA D-license  (>USPA) or FAI license (COP) (> UPT)
Minimum 18 years of age > USPA/UPT
Minimum of 500 jumps (ram-air canopy), 3 years in the sport (signed logbook or any other approval, no audibles) > USPA/UPT
USPA Coach Rating (> USPA) or foreign instructional rating equivalent (> UPT)
Current FAA Class 3 Medical Certificate (or foreign equivalent Euro Class2) > USPA/UPT
Study content of IRM (part Tandem) > USPA
Fill in pre-requisites on the USPA Tandem Proficiency Card > USPA
Fill in the answer sheet of the Open Book Exam of the General-I and Tandem -I prior to the course  > USPA
Study content of UPT VECTOR2 and SIGMA manual (to be downloaded through UPT) > UPT
Fill in the written exams of UPT VECTOR2 (65 questions)  and SIGMA (20 questions) > UPT
Proficiency Card
The "Tandem Instructor Proficiency Card" can be found in the IRM and serves as your rating application to be send to the USPA after the course. Most requirements will be signed off during the course by either I/E or evaluator. However, the requirements no 1 till 7 need to be done prior to the course and has to be signed off by a current USPA Instructor. The signatures on the proficiency card are valid up to 12 months, so that should give you enough time to fulfill all the needed requirements.
You can download the USPA Tandem Proficiency Card here.
Course outline and examination
The course takes app. 3-4 days (depending on the number of candidates) and will start in the classroom at 09:00 am on the first day with verification of all requirements. All candidates should have the needed documentation at hand. The course covers the theoretical and practical part of the Tandem section of the IRM as well as the tandem instructor training video of UPT. Furthermore the course includes lessons of side spin scenarios and AAD (Cypres) activation (incl. Videos) and packing.  The course ends with ground and in-air evaluations as well as recap.
There will be 10 jumps in total: 5 evaluation jumps with I/E and/or evaluator and 5 practice jumps with I/E and/or evaluators and/or Tandem Instructors, of which at least two jumps will be accompanied by external video.
Furthermore, each candidate will have to score at least 80% on the USPA Tandem Instructor open book exam. Candidates, who have not filled in the exam completely or who did not score 80%, must retake the exam during the course and a 100% score will be required.  The USPA Proficiency Card has to be signed off completely.
For the evaluation jumps please make sure to bring a baggy jump suit, an open face helmet or a frap hat as well as a visible and audible altimeter.
Dates and Registration
For already scheduled courses have a look at our calendar. You can sign up for the Tandem Instructor Course with this Registration Sheet according to the deadline prior to the course start (make sure to be prepared). Upon registration, we request a deposit of 200,00 Euro which is not refundable by cancellation after the deadline. The rest of the course fee will be paid latest upon arrival on the first day of the course. Prices according to our pricelist.
If you cannot find a suitable course date, please make sure to contact us and inform us about your individual date wishes. We usually try to organise additional courses if our course schedule allows it. If you are looking at organising a Tandem Instructor Course at your Dropzone, please contact us via email or phone.