Beginners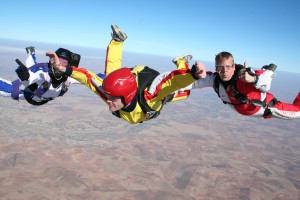 Welcome to our INSTRUCTORS ACADEMY, the skydiving school which can train you to become a skydiver without any previous experience. We are training with the worldwide recognised method of Accelerated Freefall.
Accelerated Freefall (AFF) is so called because it is the fastest and most efficient way of learning to skydive. It is also the most up-to-date method and teaches the newcomer the basics of skydiving in a safe, quick and fun way. It is just a matter of a few days and you are able to jump out of an airplane all by yourself in a safe way. You can also continue your solo jumps with us and to complete all this in a week. If you have even more time, we would be happy to accompany you all the way to your skydiving license as well.
After the first step and once you are a skydiver, you will discover along the way various skydiving disciplines as formation or free flying, group jumps, canopy skills, Wingsuit flying or Skysurfing. There are many fascinating aspects of this great sport and we would like to be a part of it and to escort you all the way.
Our teaching philosophy
Our AFF courses are run individually according to each student best suitable dates. This gives you more flexibility in planning your holidays as you are not depending on specific course dates or other student registrations. The duration of the course will be depending on your own set pace. You can decide how many jumps you would like to do in a day and you decide the amount of days you like to spend at the Dropzone. Most students complete their course in a few days jumping an average of 3-4 jumps daily. Obviously the personal 1-on-1 training emerges in a more efficient and profitable tuition.