Skydive Holiday
For starting one of our AFF courses, you don't need any previous experience whatsoever. The courses are designed for beginners and we will teach you all the necessary skills. Our students come from all parts of the world, especially UK, Ireland, Germany and other northern European countries in order to combine their holidays while learning how to skydive.
If you have already started your skydiving training at another Dropzone and you did not finish there or it has been a long time since you last jumped, you are welcome to continue with us as well. Just let us know about your previous experience while presenting jump log or any other kind of documentation as proof of ability.
There are many positive aspects about training abroad. First of all, in southern Europe you will find more stable jumping weather all year round, the flight connections in between Europe are quite reasonable and the flight times short while not suffering any jetlag. Further expenses, i.e. accommodation, food, drinks etc. are much lower than in the northern European countries. And last but not least: you are enjoying some free time while being on holidays not to be occupied with work- or family stress or other obligations.
Our office gladly assists with any travel arrangements such as airport transfer, accommodation bookings, skydiving insurance etc. We understand that travelling to a foreign country with lack of foreign language skills might be intimidating, but with our support and organisation, this should not be of any worry to you. Just pick your best suitable date for your holiday and send us a short email to confirm. From then on, we will be in constant communication and organising everything around your holiday abroad. The prices for extra services such as airport transfers, different accommodation options etc. are transparent and finally up to your approval. There are not any hidden costs waiting at a later time.
Being covered in case of emergen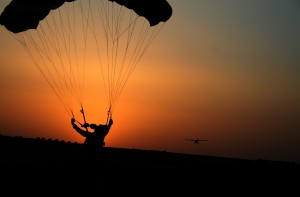 cy or accident is something no one wants to consider but nevertheless essential whilst staying abroad. If you don't have your own personal liability insurance that covers skydiving as well, you can buy skydiving insurance through our school. It is so simple.
Contact us if you have any doubts or further questions not being answered on our webpage (see also our section FAQ).
If you are ready to book your course, contact us right now and make the first step into your skydiving career!