Welcome to Formation Skydiving Coaching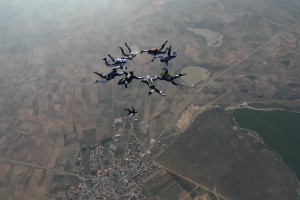 Once a licensed skydiver, our INSTRUCTORS ACADEMY supports you as well in advanced flying skills. It does not matter the level of your experience. If you just achieved your skydiving license or if you are an experienced jumper, who wishes to improve his skills, if you are jumping in a team and are looking for serious training: we are able to offer you the right training at your convenient time and place with lots of experience to benefit from. Our instructors look back at many years experience in the sport, they have many titles, record or championship achievements and speak various languages. The training can be held in English, German or Spanish language.
The learning goal is as individual as each skydivers learning method. Some of you might be interested in participating in multi-way jumps or big formations; others prefer the classical 4-way jumping while again others just looking at jumping with their friends to have some fun. Different goals require different training. Our Coaching program is therefore individually prepared for each customer using the whole variety of modern and efficient flying techniques, such as mantis position, knee turns, and etc. as well as mental awareness control as successful completion of the jump.
Booking a Coach cost money, but in the long run you will save plenty of that. The right Coach can make you achieve your goals in minimal time and with fewer jumps then trying to learn on your own or with non-professionals.