Formation Skydiving for beginner skydivers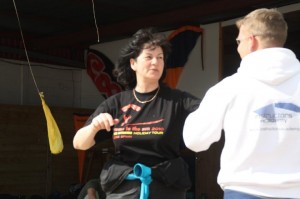 You have recently finished your AFF and your consol jumps and wonder what comes next?
With the right training, we will prepare you for jumping with other skydivers in just a matter of days. And then the great fun begins. Be aware that jumping with other skydivers can be fun but can be dangerous as well if you do not know the basics of formation skydiving.
FS1 Complete Course (according to BPA requirements)
The basics of FS will be taught thoroughly in our FS1 Complete Course (BPA FS1/Cat 10 qualification) which consists on ground school as well as 10 jumps:
8 x 1-on-1 coached jumps with Video analysis (fall rate, movements, dock, grip, turns, slot flying, tracking)
1 x 3-way jump with Coach plus 1 experienced skydiver
1 x 4-way jump with Coach plus 2 experienced skydiver and external video
In most European countries, the basic skills for Formation Skydiving will be already required when applying for the national skydiving license. In the UK, the regulations are different and the FS1 is mandatory in order to jump with other people at BPA associated Dropzones.
Prices according to our pricelist. Reserve your Coaching right now online! Interested for someone else? We have Gift Certificates available. Contact our office now.