Formation Skydiving for beginner/advanced skydivers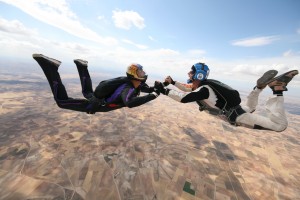 1-on-1 Coaching
If you are looking at improving your skills but are uncertain about your current level of experience, we recommend going for the individual 1-on-1 coaching. In a few hours ground work as well as in-air practice jumps, you will learn about the different exit techniques, free fall positions, different movements through all axes, etc. Using muscle memory as a very efficient training tool, you will soon remember everything learned on the ground and convert it into your skydive. Don't waste your time and money on many solo jumps. Start your FS training and soon you will be benefiting from more quality jumps and definitely more fun!
The Coach can be booked for different coaching packages. Obviously the more jumps you book, the more benefit you will receive. The following list explains in outline what learning goals you can reach in which training session:
5 coaching jumps:
different exit techniques (diving, floating), approaches and docking manoeuvres, fall rate adjustment with up- and downs, back- and forward movements, leg and arm awareness, tracking for safe separation.
10 coaching jumps:
see above (5 coaching jumps) plus side slide, turns in place (180°/360°), recovery,  2-way FS work, body and mind combination.
15/20 coaching jumps:
see above (5/10 coaching jumps) plus more advanced FS work and repetitions, Canopy Control.
Prices according to our pricelist. Reserve your Coaching right now online! Interested for someone else? We have Gift Certificates available. Contact our Office now.