Tandem Skydive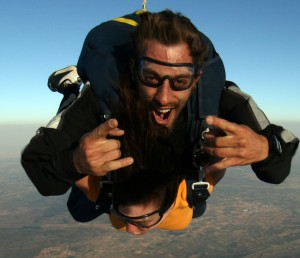 The tandem skydive is a great way to get to know the sport in a safe way and to learn about the fascination of free fall without any commitment and without any previous experience. As a tandem passenger you will be harnessed to an experienced tandem instructor while jumping out of an airplane at an altitude of app. 13.500 ft. While attached to him, you will discover free fall for about one minute before the instructor will deploy the main canopy which he carries on his back and under which you both will land safely. All you need to do is: book the jump (daily from 09:00 till sunset) and enjoy the ride!
Everybody can enjoy the Tandem Skydive – at any age (min. 16 years old, minors with parental authorisation) or physical condition (weight minimum 45 kg, limit 100 kg, height minimum 1,50m and limit 2m, no heart problems)! If you have any physical handicaps but still like to jump: please contact us in order to check the possibility of skydiving.
Lets record your first jump experience on DVD by booking also a video of your tandem skydives. The impact of your first skydive might be tremendous and you could experience a lot of adrenaline release. There are some seconds of your jump which you might not remember afterwards. To re-live this moment while sharing your experience with family and friends its worth investing into the camera option.
You decide if you like to take home a Video (DVD) or Video and digital Stills (DVD/CD). One of our experienced cameraflyer will accompany you during your ground preparation and gearing up, the plane climbing, the exit and free fall and the parachute landing.
Prices according to our pricelist. Reserve your tandem skydive right now online! Looking for a present to a friend or someone special? We have Gift Certificates available. Contact our Office now!