Course review Skydive Spain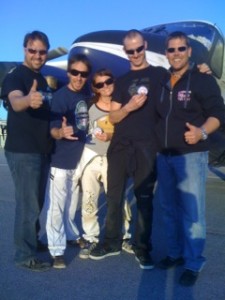 During Oct 28th and November 6th, 2010 we – once more – travelled south and felt welcome at the sunny DZ of Skydive Spain. As always we were greeted with a friendly atmosphere and staff and for the course most importantly a great airplane and sunny weather. We were able to complete the planned schedule and congratulate all candidates for their achievements and say Thank you for participation and confidence in our school.
The new achievements are:
– Adam Morris, UK (USPA AFF Instructor)
– Anamaria "Mishka" Lucaci, Romania (USPA AFF Instructor)
– Francisco Gaitan, Spain (Sigma Tandem I)
– Jacobo Mendaro, Spain (USPA Tandem I)
– Mauricio Graiki, Brasil (USPA Coach and Tandem I)
Our thanks goes also out to Skydive Spain Team for the great hospitality and to Jonno Horne for assisting as evaluator on this course! Great job everybody – will see you soon again! More pictures to be found on our Facebook group page (album "Skydive Spain Nov 2010") – check it out!