Tandem IC successful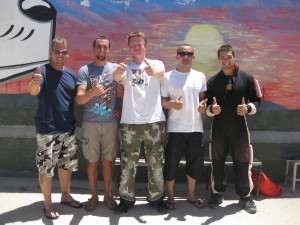 Our last scheduled course during the stay at Skydive Lillo Spain was the USPA/UPT Tandem Instructor Course and we are pleased to announce that both candidates passed the course successfully. Thanks to the assistance of Julian Barthel and Herve Manigas, we can present the two new USPA Tandem Instructors:  Florin Craciun (Romania) / Edward Roscoe (UK/Spain). Well done, guys! Thanks for booking in and good luck with your future tandem passenger jumps.
Our graditude goes also out to the entire team of Skydive Lillo for being a great host DZ during our past 2 weeks.  We shall see you all again soon!