Tandem Course completed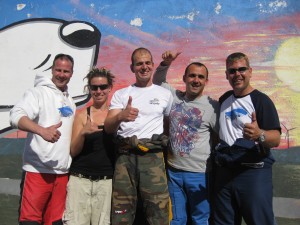 While in Skydive Lillo, we also conducted a Tandem Rating course and we are pleased to announce that all candidates passed the course. We give a special congratulation to Cornelia Mihaifor being the very first Romanian female Tandem Instructor! Our dearest congratulations to all the new USPA Tadem Instructors:
– Cornelia Mihai (Romania)
– Demos Marifoglou (Greece)
– Hervé Manigas (France)
– Roberto Elena (Spain) (conversion)
Congrats to all of you and good luck with your future tandem  students/passengers! We thank Skydive Lillo for their great hospitality during the course and we thank and appreciate the assistance of our own Joachim Groneberg and Julian Barthel during the course.