Successful AFF IRC at Skydive Madrid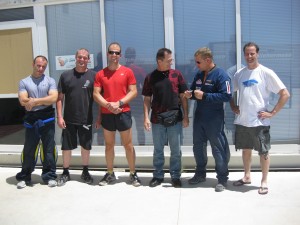 Another great training week accomplished! With hot temperatures underneath typical Spanish sun, we continued with candidates of previous courses for the evaluation on the AFF Instructor jumps at Skydive Madrid, Ocana. The candidates which travelled from Cyprus, Greece and Crete to visit us in Spain managed to get their practice jumps as well as evaluations done in between this 4 day training camp.
By the end we can congratulate and present four new AFF Instructors:
– Carl Partington (UK/Spain)
– Dimos Marifoglou (Greece/Spain)
– Stavros Kypragoras (Cyprus)
– Spyros Kalatzis (Greece)
We give a big CONGRATULATION to all the candidates and wish good luck with their new Rating. We say THANK YOU to Joachim Groneberg for assisting on this course and to SKYDIVE MADRID in Ocana for their hospitality while course hosting.