Review USPA/UPT Tandem IC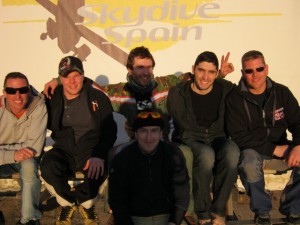 During our stay at Skydive Spain, we were also able to run a USPA/UPT Tandem Master Course during March 11-14, 2011. We are happy to anounce that all four participants have successfully completed the course. Congratulations to an awesome performance and big applause to:
– Cedric Rios (France)
– Radu Vlad Tartan (Romania)
– Robert Krysztofiak (Poland)
– Tomi Ahonen (Finland)
Thank you for your confidence and participation and good luck as Tandem Masters from now on. Big thank you also to the hosting DZ Skydive Spain for their  support and hospitality!
More pictures can be viewed on our FACEBOOK page … follow the link!