Review USPA Tandem IC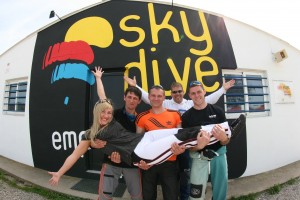 During our stay at the beautiful DZ in Empuriabrava, we also conducted a USPA/UPT Tandem Master Course. The course took three days and included all the necessary 10 jumps for the candidates to continue jumping with real passengers in a safe way. We successfully completed all the evaluation and congratulate the following skydivers for their newly gained USPA Tandem Instructor Rating:
– Pavel Blizniuk (Belarus)
– Olga Naumova (Belarus)
– Serhei Yaromich (Belarus)
Well done guys! We thank you for your visit to Spain and wish you good work with your new rating. Have a good trip back home to Belarus!
Photo by Nigel Holland.