Review USPA AFF IRC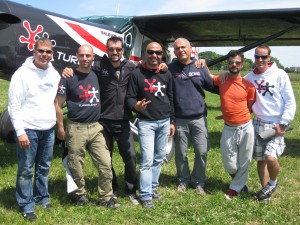 During our stay at Skydive Fano, we were also pleased to conduct a USPA AFF Instructor Course during May 12-17, 2011. We did not manage to get 100% success rate but we will retry in the near future for those candidates who did not achieve their goal. In the meantime we thank you all for participation and congratulate the following new USPA AFF Instructors:
– Andrea Cardinali
– Enrico Scalini (conv)
– Roberto Saddi (conv)
Once more THANK YOU to Sebsatiano and Livio for the assistance and the hosting of this course. It was a pleasure training with you and we really enjoyed our stay! See you again soon at the beautiful Skydive Fano!