Review last Tandem Course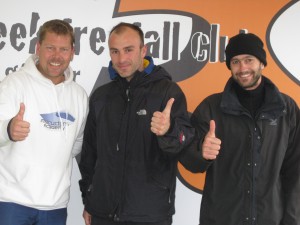 While the DZ of Greek Freefall Club (GFFC) near Athens, Greece is developing and growing, the need for tandem instructors arouse. We are pleased that Instructors Academy is a part of their development and we are happy to train their staff members as well.  After a throrough theoretical part as well as 10 tandem jumps, we can congratulate the candidates for their successful completion and present two new USPA/UPT Tandem Instructors:
– Spyros Kalatzis (Greece)
– Evangelos Nioukas (Greece)
We give a big hand to you and wish you all the best with the upcoming "real" tandem jumps. Once more we also thank GFFC and its community for their hospitality and support!