Review last Coach Course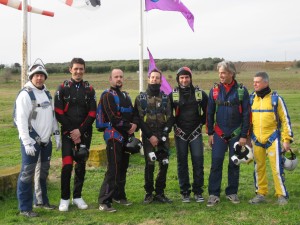 While we are still enjoying Italian Sky, we do not want to miss posting the review of our last USPA Coach Course held at Skydive Sardegna during Dec 27-29, 2010. Our Italian course participants did all a great job and we are happy to have completed the course successfully and in time to continue on the AFF Instructor Course as well.
Please join us and congratulate the group for achieving their goal and for receiving their USPA Coach Rating:
– Giuseppe Bianco
– Marco Prisco
– Matteo Rilla
– Roberto Saddi
Thanks to you all for your participation and good work with your new rating as well as good luck for those who continue on during the AFF IRC. We also thank the team of Skydive Sardegna for their great hospitality and for a nice time. Keep you posted on the next course as well….