Review AFF Pre-Course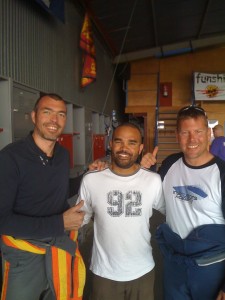 During our last days at sunny Skydive Spain, Sevilla we were pleased by the visit of two ongoing AFF Instructor candidates who took advantage of our AFF pre-course as proper preparation to their actual AFF Instructor Rating Course in a few weeks time. René Klensch from Luxembourg (left) and Nick Chaperon from Cyprus (middle) are already experienced skydivers and Coaches. With the three days preparation course both were still amazed on how much they learned and how much new information they received. Both left happy and satisfied and eager to continue with the "real deal" on AFF IRC soon. We will keep you updated on their performance later on in April.  We say thank you for the visit to Spain and good luck on your upcoming AFF IRC.
We use the opportunity to pass our sincere thanks also to the entire team of Skydive Spain for their – as always – great hospitality and professionalism. We shall return soon!