New Coaches and IAD-Is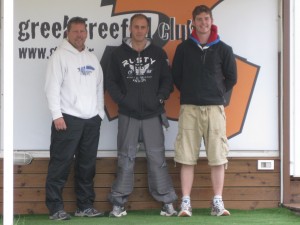 We are pleased to spend another week at the beautiful DZ of Greek Freefall Club (GFFC) near Athens, Greece and we are mostly pleased to greet two members of the Irish Military. Its not the first time that our school trains with the Irish Military and its always a pleasure to do so.  This time, the two skydivers Alex and Billy booked themselves for the USPA Coach Rating and IAD Instructor Course. We had some great training days with very disciplined and well prepared candidates! It was easy going for them to successfully complete the courses and we like to congratulate them big times! Well done:
– Alex Wilczynski (Coach/IAD)
– Billy Hedderman (Coach/IAD)
We thank you and the Irish Defense Forces for their collaboration and we thank everybody at GFFC for their support and outstanding hospitality!