New AFF Instructors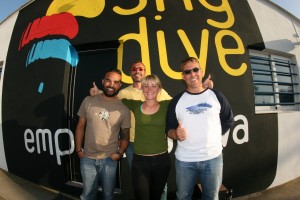 The last course conducted by our school at Skydive Empuriabrava was the USPA AFF Instructor Course which takes about 6-7 days depending on the number of candidates. We evaluated four candidates and are happy to announce that two of them gained their USPA AFF rating. We congratulate Mara Springer (Germany) and Nick Chaperon (Cyprus) for their performance and achievement.  We wish them both successful working jumps with real students. To Rene and Manolo, we thank you for your participation and hope to see you again in another course.
Our thanks goes also to all the helpful staff at Skydive Empuriabrava for their hospitality and especially to Ivan and Alain for evaluating, to Fran and Segundo for course assistance and to Nigel Holland for the great photographs.
Photo by Nigel Holland.