AFF IRC celebrations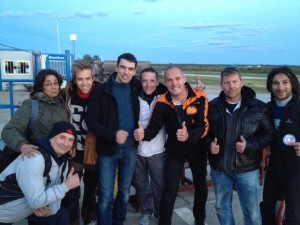 Our stay at Skydive Spain DZ has been completed with a AFF Instructor Rating Course. All participants were eager to complete their evaluation briefings and in-air tasks, but only two candidates succeeded. Congratulations to Arvid (Sweden) and to Giorgio (Italy) for passing their evals and for becoming the new USPA AFF instructors. Congrats and lots of fun with your upcoming students!
We thank you all for booking yourself into our school and thanks to the entire team of Skydive Spain for the – as always – great hospitality (especially Peter for the evaluator assistance and Iwan for the videos). We will be back!!