Two new Tandem Instructors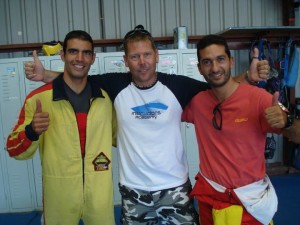 During this weeks training at Skydive Lillo in Spain, we are also pleased to see the successful completion of the USPA/UPT Tandem Master Course. The two course participants who are active with the Spanish military, showed great performance and we congratulate them both for their achievement in becoming new tandem instructors:
– Santiago Jimenez (Spain)
– Julio Aguado (Spain)
Well done, guys and good work with your new rating and your upcoming tandem passengers! As always we like to thank Julian, Tigri and everybody else involvedduring this course as well as the whole staff of Skydive Lillo for their hospitality!